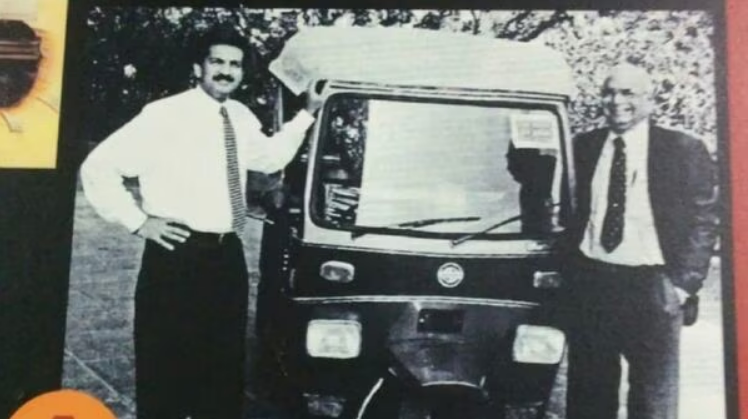 In response to this surprising post, a user commented, "Wow, that's impressive. Your company has always been ahead of its time."
The automotive magnate, Anand Mahindra, often delights the internet with his unique posts. This time, Mahindra shared a post featuring an adorable electric three-wheeler named "Bijlee." The post mentioned that it was crafted by an employee named "Nagarkar." Unfortunately, the company had to reject his proposal, deeming it "ahead of its time."
Anand Mahindra shared this post on his official handle @anandmahindra on X (formerly Twitter). He aptly captioned the post, mentioning that it reminded him of his very first electric vehicle called "Bijlee." In the post, he elaborated that the company had ultimately rejected the proposal because it was too futuristic.
"Today is #WorldEVDay, which has taken me back to the past, precisely to 1999, when a key figure at @MahindraRise, Mr Nagarkar, created our very first EV – the three-wheeler BIJLEE. It was his parting gift to us before retirement. I'll never forget his words back then: he wanted to do something for the planet. Sadly, Bijlee was way ahead of its time, and we bid farewell to it after a few years of production. Nevertheless, the dream behind it continues to inspire us, and we won't stop until those dreams become reality," Mr. Mahindra wrote on X.
As evident from the post, the picture dates back to 1999, showing Anand Mahindra posing with the three-wheeler electric vehicle.
Since its posting on September 9, the post has garnered more than 300,000 views, numerous likes, and retweets. Twitter users were excited to learn that not only did India pioneer the sending of a rover to the moon's south pole, but it also designed an innovative three-wheeler electric vehicle approximately 25 years ago.
"An EV in 1999! Mahindra was truly ahead of its time even back then. We hope Mahindra can compete with Tesla/Byd, at least in terms of EV design. India's leadership position in this century depends on our products in the EV landscape," commented one user, expressing optimism about the future.
Another user, in a similar vein, remarked, "It's good to know that, after 24 years, people have realized the importance of environmental conservation, and EVs are now being produced in large quantities. Hopefully, we can address the challenge of electricity production through various renewable energy sources and make the world a better place to live. We all have a role to play in preserving the ecosystem."
"What an incredible journey it has been! Mr. Nagarkar's vision for a greener future lives on, and it's heartwarming to see how Mahindra continues to strive toward that dream," shared a third user.
So, what are your thoughts on this early initiative? Do you believe that if Mahindra had mainstreamed this vehicle, it could have been successful? Share your opinions in the comments.